Title: Raksha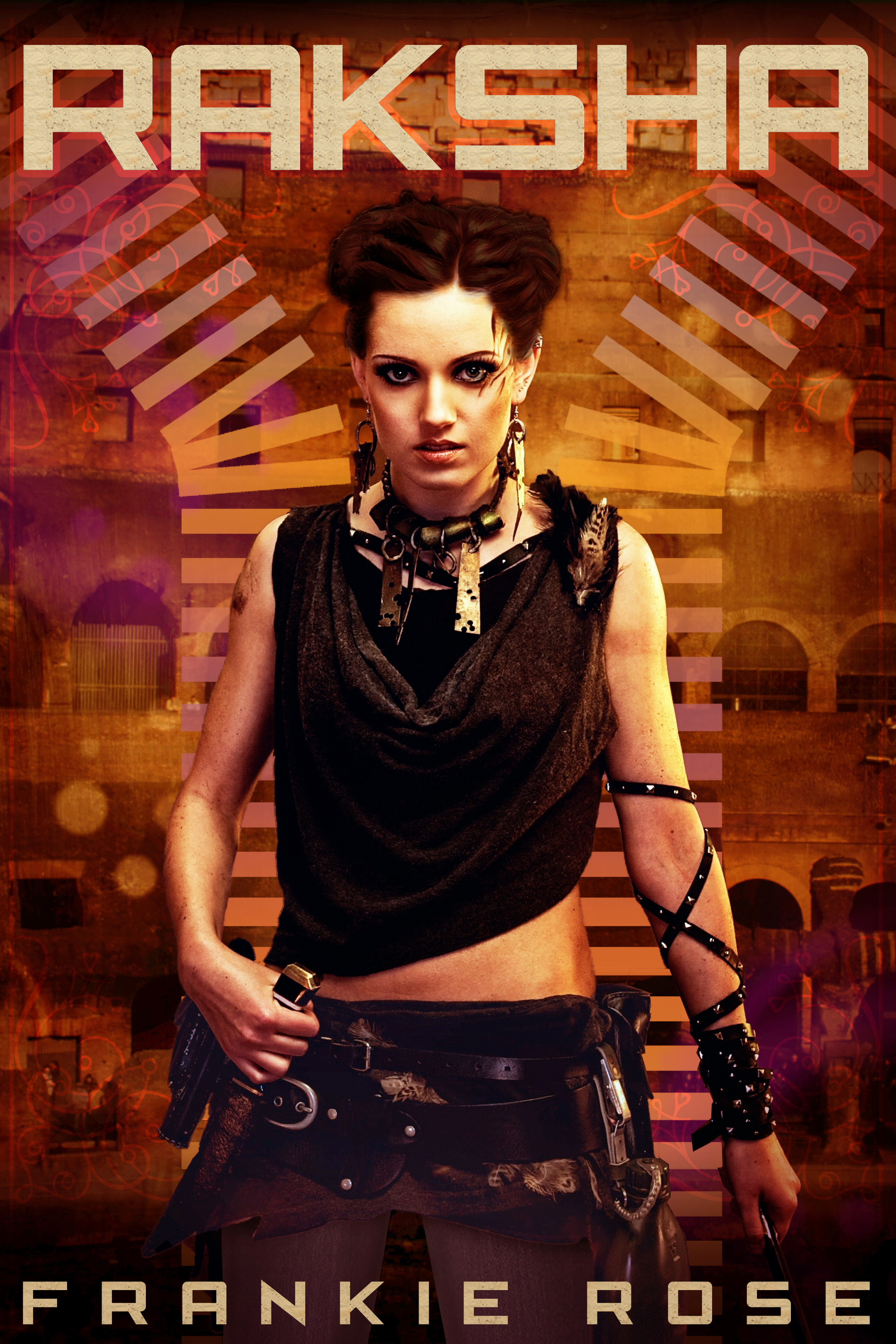 Author: Frankie Rose
Star rating: 5/5
I was supplied a copy of this book by the author in return for an honest review.
So what's it about?
The Sanctuary is as any sanctuary should be – a place of calmness and tranquillity. But when the calm is enforced and the people controlled by 'Halos'; devices that inhibit emotions and drug the wearer into indifferent submission, how can this sanctuary be anything more than a prison? And then there are the Amphi-matches…
Falin Kitsch is a fighter. She belongs to the House of Kitsch and the 'Trues' – people whose emotions are not inhibited by a halo - that govern it. She, like the others of her class, is a commodity for her family. Falin train, they fight, and their wins in the amphi-matches earn their families status and wealth. But when Falin Kitsch is pitted against her friend and training partner Falin Asha, everything she has ever known crumbles at her feet…
Love it or hate it?
I absolutely LOVED this book. I was hooked from the very first page and was emotionally invested in the characters before I even made it 10% of the way through!
The journey the reader takes with our protagonist 'Kit' is two-fold. Not only do we explore the mysteries of the world with her on her physical journey; the sanctuary, the terrors of the river, the fires of Freetown, the dilapidated city from the world before; but we also are privy to her emotional awakening and the struggle that comes from one minute having no feelings to the next having a maelstrom of emotions beating at you. I really liked Kit: confused, lost, out of her depth and yet strong, capable and determined. Ryka, her unwanted rescuer and, later, love interest suits Kit down to the ground. His playful character counterpoised with his own secret fears makes for an interesting and relatable character - and that moment when he makes their blades sing… wowie…Ah-hem…. Where was I?…
The world, characters, conflict and dilemmas are well crafted and rousing. The writing is descriptive and beautiful whilst remaining pithy and engaging. I did not find a wasteful word or sentence – and for someone who tends to skim read the superfluous drivel you can find in other novels – this was a fantastic and commendable positive! The literary qualities of this novel could have classrooms discussing it for weeks. The hints at the world that existed before and the allusions to the ancient world of the coliseum and gladiatorial battles entrenches the story in a brutal history. The exploration of human nature and the question of what it means to be human could have reader's blogging for days. The irony of Kit's escape from one world only to land in another so similar to the first, could spark the fiercest of debates - and all this in 354 pages – marvellous! I cannot wait for the remainder of the series!
I have already heard this compared to The Hunger Games and I am a little annoyed by the simplicity of the reference. If you are going to compare this to another dystopian novel then for that matter compare it to Margaret Atwood's 'The Handmaids Tale' or Orwell's '1984' because it deserves to be on the same reading lists and sit on the same shelves and if this book isn't thought of as a YA literary classic in a few years then I will be thoroughly disappointed.
A Fantastic Book; A Wonderful Story; A Brilliant Read; An all-round winner!
Read this if…                           
You like stunningly described fight sequences
You like a book that will make you smile, cry, shout, laugh and otherwise twang your heartstrings as though it is playing a harp.
Beautifully bittersweet relationships and singing blades (seriously read it and you will catch my drift!)
You like to really hate a character and wish you could jump into the text and beat him senseless – If only I was fictional and had a pair of scissors: Payback…
Favourite quote:
"Hey," the blonde girl says breezily. "You came in last night, didn't you? You're from Lockdown?" She leans forward and gives me a kiss on the cheek before I can flap my arms and reach for a knife or swat her away. She's smiling too broadly to have noticed the look of abject horror on my face.
Frankie Rose. Raksha (Kindle Locations 2391-2393).
Reviewer: Hagnut  (18/05/13)